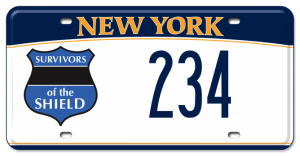 New York State Survivors of the Shield License Plates
Survivors of the Shield license plates were created to honor our fallen Officers. These Officers sacrificed their lives for the people of the State of New York.  Survivors of the Shield license plates are issued to the parents, spouses and children of Police Officers who made this ultimate sacrifice while in the performance of their duty in the State of New York.  If you are a family member and would like a set of Survivors of the Shield plates on your vehicle to honor our fallen officers complete the following steps.
Your vehicle must already be registered in New York.  Numbers only, no letters.  Plate numbers requested may not be available.  Your information will be received by the board of Survivors of the Shield and kept confidential.
Step 1. Submit the form below.
Step 2. Fill out the NYS DMV Custom plate application. DMV Website: link 
Step 3. Sign and Date SOS consent form.
Step 4. Send a copy of your current New York Vehicle registration, DMV Custom plate application and SOS consent form to Survivors of the Shield along with payment.
Enclose check:  made out to NYS department of Motor Vehicles or credit card information.
E-Mail: sosinfo@survivorsoftheshield.org
OR
Survivors of the Shield
Church Street Station
PO Box 436
New York, NY 10008-0436
Survivors of the Shield License Plate Application Form