These Books and movies are about the officers we lost. They are our family, they are our husbands, fathers and sons.
Proceeds from the sale of these items do not necessarily go to families of the officer killed; proceeds go to the creator/author or sales agent.
Brian Murray EOW September 11, 1976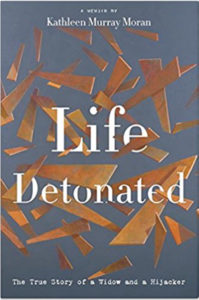 Life Detonated: True Story of a Widow and a Hijacker. The gripping true story of Kathleen Murray, a young mother whose life was changed on September 11, 1976, when her husband, Brian Murray, a NYPD bomb disposal expert, was killed by a terrorist's bomb. It details her childhood in the Bronx, her journey out of poverty with Brian's help, and her own determination to take care of her two young sons after Brian's death. In her search to find out why the bomb exploded, she was seduced by one of the terrorists whose persuasive letters from prison offered a link back to her husband. The story details their dysfunctional relationship and face-to-face meeting where the truth is revealed.
This gripping story details Kathleen as she rises from bring the unintended target of a political terrorist battle, to the co-founder of Survivors of the Shield, to college professor and author.
Joseph Vigiano  EOW  September 11, 2001

TWIN TOWERS When Dick Wolf, producer of the NBC series Law & Order, began filming a reality-TV pilot about a New York City police squad, no one could have known that terrorists would claim the lives of fourteen of the men in that unit on September 11, 2001. Joseph Vigiano, a highly decorated member of the NYPD Emergency Services Squad 2, died in the World Trade Center, along with his older brother, John, Jr., a firefighter with Bedford-Stuyvesant's Ladder 132. They both rushed to the scene as soon as the first building was struck and were still helping people evacuate when the towers collapsed. The footage that had been shot for Wolf's pilot is the basis for this Academy Award-winning documentary. Twin Towers follows Joe's Harlem-based rescue team as they go on raids and investigate homicides, and includes interviews with their families, news footage and home videos to tell a story of dedication, heroism and the American spirit that defines us, as a people and a nation.  Won Best Documentary Short Subject 2002
Joseph Piagentini and Waverly M. Jones  EOW  May 21,1971
A blood-chilling true-crime account from former district attorney and New York Times bestselling author Robert K. Tanenbaum
They were just doing their jobs — serving and protecting — when the unimaginable happened: Officers Waverly Jones and Joseph Piagentini became moving targets, ambushed from behind at a Manhattan housing project. Jones lay dead in a pool of his own blood, and Piagentini lived long enough to beg for his life — before he was riddled with twenty-two bullet holes by members of a deadly hit squad hell-bent on taking out the men and women of law enforcement.
Masterfully building suspense on every page, Robert K. Tanenbaum reconstructs the vicious murders of Jones and Piagentini and the manhunt for the suspects, and brings to life his courtroom prosecution of the killers — revealing the triumphs and failures of America's legal system.
EOW Patrolman Phillip Cardillo  April 20, 1972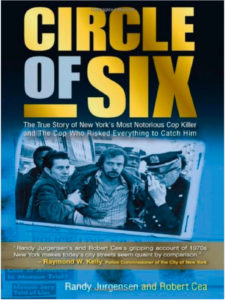 Circle of Six is the true story of what is perhaps the most notorious case in the history of the New York Police Department. It details Randy Jurgensen's determined effort to bring to justice the murderer of Patrolman Phillip Cardillo, who was shot and killed inside Harlem's Mosque #7 in 1972, in the midst of an all-out assault on the NYPD from the Black Liberation Army. The New York of this era was a place not unlike the Wild West, in which cops and criminals shot it out on a daily basis.
---
The Following Books are written By NYPD Officers
by
You can help us by writing to survivorsoftheshield@gmail.com with information about any  books or movies about our NYPD Officers killed in the Preformance of their Duty missing from this page.  Thank you SOS